Development platform
---
My platform for web development!
Tools, resources and technical data.
---
Webmaster Tools Programmer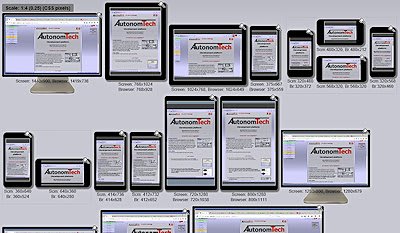 Responsisualizer
:
- A responsive web page multi-device screen simulator.
Visualizes a web page in 18 different screen resolutions simultaneously, in live functional simulated device views.
- Useful both to check the responsive action and to verify the design layout of the web page at different screen sizes.
- It´s also a stress test of the web page, with the 18 almost simultaneously requests to the page, if there is any time critical in the code or the site / server.
Link Library
:
A link library of useful quality links within web coding.
---
Live Demos
---
For the moment I code:
A Guest Book script called Guest FootPrint IT - GfpIT Guest Book.
An advanced visit tracking software - PhpTrackIT.
A responsive web multi-screen simulator - Responsisualizer.
A photo gallery script - PhpGallery.
My "SimpleSinus" Web Platform, which I use for this site.
Which all are planned to be released as free open source software in the future.
---
Technical links
Current operational situation of electricity in Scandinavia - Map: Production & consumption
BesöksStatistik

Här kommer statistik när jag kodat färdigt...
XXXXX
AutonomTech, version: 4.5
Sidan senast uppdaterad: 2017-02-25, 11:07
Copyright © 2003-2017 Bosse at www.autonomtech.se
Valid XHTML 1.0 Strict